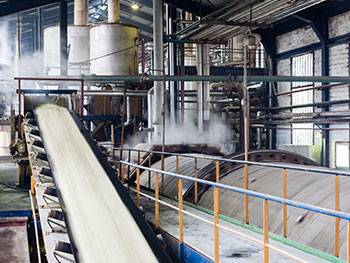 CASE STUDIES
We provide fixings capable of operating within extreme conditions and highly sensitive settings, making our products well-suited to a wide range of environments and industries.
Permafast also supply fixings to the quarrying, cement, glass and airport baggage handling industries.
Biomass for Power Generation
Permafast know the challenges in the design, manufacture and installation of equipment used to process biomass fuel. Working in conjunction with a leading UK manufacturer of conveyor systems and bulk material handling system technology, Permafast supply bespoke, high performance fixings for the complex handling and conveying systems used by Drax Power Station and other biomass conveyor systems. Our heavy duty fixings are robust enough to withstand the high temperatures and processes associated with the fluidised bed combustion process.
UK Sugar Production
Permafast understand that the food processing industry, particularly sugar production, places extra demands on the equipment used to process and handle products. In conjunction with a leading UK conveyor systems manufacturer, Permafast continually develop our products to provide reliable, low maintenance fixings which significantly reduce the risk of product contamination and operation down-time.
UK Transport
Permafast regularly supply nuts and bolts to the transport industry, particularly in the development of UK rail infrastructure. Proudly providing fixings for some of Europe's most ambitious and exciting engineering projects, high profile clients include Eurotunnel and Crossrail Ltd.
Crossrail is the largest construction and civil engineering project in Europe, which upon completion will introduce a quicker, easier and more direct rail service to London and the South East. Eurotunnel is the company behind the management and construction of the Channel Tunnel, connecting Folkestone with Calais, which offers fast and frequent travel between the UK and the rest of Europe.
01246 250150